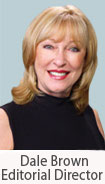 Healthy Answers…

Hello! I'm Dale Brown and the health editor of this web publication called "Healthy Answers for Boomers & Beyond". I would like to first welcome you and hope that you visit us often. Once you explore our site you'll find all kinds of amazing articles, videos, and stories that will help you live healthier and happier.
Have you ever heard of the word Boomgevity? You won't find in the dictionary or listed in Wikipedia. That's because I made it up! What it represents is a generation of folks just like myself that were born between the years of 1946 and 1964 with the goals and determination to live longer and happier!
Frankly, us Boomers don't like the idea of aging.  History had labeled us as: experimental, rebellious, materialistic, and anti-establishment. But then again things have changed and all that is now – history!
For now we want to enjoy our lives!
We don't want to feel our age…or look our age…or even act our age. That's why we are on a mission to try anything and everything to bring a sense of purpose, self-growth, and peace of mind into our lives!
We are simply in love with the fact we are Boomers – LiveOn Boomers!
HealthyAnswers.com Now Has A New Look…A New Feel…
And Whole Lot More To Offer You – Boomers!

Recognizing that millions of you want to have a healthy and happy life, we have taken on the task of delivering you a website jam-packed with all kinds of information on keeping you young and active.
We welcome you to see our new website and visit some of the great ideas and information we have researched and discovered.  But that doesn't mean we don't want to hear from you too! I'm sure you have many interesting stories to share with us from those "Happy Days"!
Here are a few places of interest you must visit on HealthyAnswers.com
Check our new section called "Remember When"…you'll love all the nostalgic articles and photos!
Come view our Boomer Video Gallery for clips of long forgotten moments of memorable history.
Don't miss our amazing self-improvement articles on keeping you healthy and young.
Learn from our fitness and nutritional experts on how to eat and exercise healthier.
Discover how to find more of a spiritual and peaceful life with our "life coach" and guidance leaders.
Find out how to improve your social and sexual relationships after 50.
Thank you again for joining us on our journey to relive those days that made us whom we are! Now is the time to learn and discover the many healthier alternatives we have available to better our lives. Hopefully, the information we provide here at HealthyAnswers.com will give you the knowledge and solutions to live well into your nineties and beyond!
Please join us and drop us a few details about your life and experiences in our section "Share Your Story". I wish you the best of health in the future.
Sincerely yours,

Dale Brown
Editorial Director, Healthy Answers
P.S. Don't Miss The Fun! Join Us Now On HealthyAnswers Facebook Page.