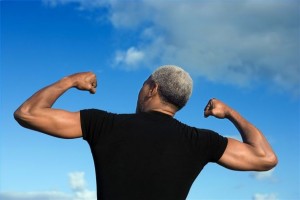 Men, what if I told you there is a way that you can remain healthy, energetic, and strong as you age? What's more, what if you could also live a longer, more enjoyable life? Would that be of interest to you?.
Well, it turns out that there is one very important step that you need to take to ensure that you not only live longer, but that you enjoy every day of it, too.
First, though, I want to talk to you a little about the changes most men go through as they age. As a man, you do face age-related hormonal changes. They may not be as drastic and as sudden as the changes a woman experiences during menopause, but you do experience a gradual change over a long period of time. And this change can take a real toll on your health.
After the age of 40, your testosterone levels begin to fall by about 1% each year. This gradual decline adds up. You probably already know that low testosterone leads to weight gain, low energy, and a declining sex drive.
What you may not know is that low testosterone may actually cut your life short.
Researchers conducted an 18-year study on men 50-91 years of age. They found going into the study that 29% of those men had low testosterone levels. Over the course of the study, researchers found that men with low testosterone levels were 33% more likely to die of any cause over the course of the study. Researchers balanced the results for preexisting conditions, lifestyle habits, and other factors, but still found that low testosterone increases mortality risks. Researchers aren't sure why this is, but it is an important finding.
It certainly shows why you want to take steps to keep your testosterone levels in the normal range. Not only will it provide you a better quality of life, it looks you'll be around to enjoy your life for longer, too.
Naturally Boost Testosterone for a Long, Youthful Life
There are several safe and easy steps you can take to help keep your testosterone levels where they need to be.
First, get out and workout. Exercise helps keep your hormones in balance, which is what you want, especially if you're over 40. You don't have to kill yourself by trying to do 90 minutes worth of sprints or trying to swim five miles in one go. Just get out and get moving. Twenty to thirty minutes of brisk activity three or four times a week will make a big difference in your health… and in your testosterone levels.
Next, skip the low fat diet. I don't recommend you get more than 30 percent of your daily calories from fat, but I don't recommend that you get less than that either. Fats play a critical role in your body's ability to manufacture sex hormones including testosterone. And studies show that the amount of fat you get does make a difference in your hormone levels.
Finally, give your testosterone a natural lift with a supplement that contains tribulus terrestris. Tribulus terrestris has been used for centuries to enhance sex drive and build muscle. It works because it boosts testosterone levels naturally. In one study, tribulus terrestris boosted testosterone levels in healthy men by 30% in just five weeks.
By taking steps to keep your testosterone at a healthy level you can hope to live a longer and more importantly, a more enjoyable life.
Stay well,
Mark Rosenberg, M.D.
Photo Credit: ehow