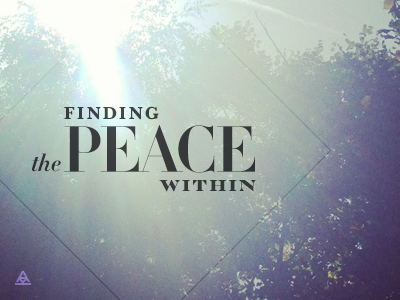 Finding peace and living in today's world may seem like concepts at odds with each other.  As a Certified Empowerment Coach, I often see clients who are running at high speed everyday just to manage their job, relationship, and whatever else is on their plate. You may be running the same path.  Yet, making time to let peace into your schedule can do a lot to lessen your stress levels and just allow you to be happier overall.  Here are some ways to do that which I like to share with my clients.  I hope you, too, will find them helpful…
5 Simple Ways to Find Peace
The pace you have to keep in managing your life – whatever it includes – may make you feel like you're running on the life treadmill all day long until it's time to go to bed.  It's no wonder that many older people have trouble getting to sleep at night – it can be hard to wind down from such action and stress–packed days.
But, there are a few ways you can decompress your life just by following these guidelines I've adapted from principle tenets of Hinduism.  They can help you simplify things.
1.   Drive your own car.  No, that's not really the title of the principle, but it's how I like to explain it to my clients.  It means, basically, that your life is like a vehicle and everyone has to steer their own – if they can.  Being overly involved, and/or interfering with other people's lives – trying to drive their cars – (and your own at the same time) can be a key stressor for you.  Now, you may be in a life situation where you have to be very involved in someone else's life – namely an elderly parent you're caretaking, or kids who aren't quite grown, or ones that are on their own who are having a hard time.  Try to relegate as much responsibility to these people as they possibly can handle which leaves you more room for peace in your life.
2.  Know Your Limits.  The popular analogy for this is "don't bite off more than you can chew".  You may have taken on way too much responsibility that you can realistically handle.  You may have done this out of a genuine desire to help, but sometimes it's done out of an over-active ego, thinking your way of doing things is the best way.  Do what you can to help but also leave yourself some room for just relaxing and reducing your stressful burden.
3.  Don't Put Off.  Procrastinating can be one of the biggest sources of "non peace" in your life.  You've let things pile up, didn't take care of them in a timely manner, and you're left with a pile of issues that require attention fast.  Living like this can really keep your blood pressure elevated and your irritation level sky high.  Complete tasks in a timely manner and you'll be feeling a lot more relaxed.
4.  No Regrets/Forget the Past.  All of us sit and think, coulda, woulda, shoulda, about certain events in our past.  We can see the answers, or a better way; we could have done something through the lens of hindsight.  But, what's the point? For most things, we can't go back and change what's already been done.  All you can do is learn from the lesson and move on and apply the wisdom you've learned to the next time a similar issue comes up.  You'll know how to better handle it this time.  If you can fix a screw up from the past, by all means do.  The satisfaction you'll get from doing so can really up your peace and satisfaction level. But if you can't, throw it in the River of Experience and let it float away.
5.  Endure What Can't Be Cured.  Life can get rough and very unfair sometimes.  There will always be things that will cause us much pain, grief and sorrow. Know which things you can change and make better and don't waste time trying to fight the Universe on the others. You can find peace in accepting things, even though you don't understand the logic, rather than constantly warring with "the powers that be" in your heart.  Also taking time to meditate a few minutes every day to center and detach from anger or resentment can help.
Life in the 21st century runs at breakneck speed. Communication happens in seconds and stressful news from all around the world bombards us all day long. We have to find ways to disconnect from it all for a while to stay healthy.  I hope these simple ways of detaching from stressors will allow you more "peace space" in your life.
Stay Well,
Dale Brown, B.S., M.A., C.E.C.
Certified Empowerment Coach
http://hinduism.about.com/od/selfdevelopment/a/peaceofmind.htm