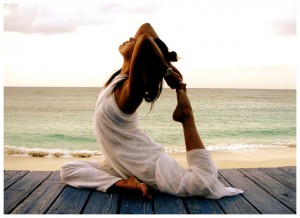 There is so much health information available nowadays—it's a real challenge trying to keep up with it…I'm sure you feel the same way. And it's easy to overlook many important health issues that can be very beneficial to your health and longevity.
That's why Healthy Answers helps to provide you with answers on topics that don't get all the attention they deserve.
That brings me to the topic of Flexibility.
Increased flexibility provides you with a number of health benefits. When you are more flexible, you feel better. Your body works better. You are less likely to become injured. You can exercise without discomfort and without getting too sore the next day.
Increasing your flexibility through stretching does many good things. It increases your range of motion, so you are able to move with less resistance and with less energy.
When your muscles are flexible, you will notice that you have better posture. This makes you look better and also improves how well you breathe. Flexibility through stretching also helps to move nutrients into your muscles by increasing the blood flow in your body.
When it comes to the best way to improve your flexibility, I recommend yoga.
The Benefits of Yoga to Your Body and Mind…
And It's Easier Than You Think!
There are a number of reasons that I like yoga. First, it uses static stretches. That means you get into a position and hold it for a time rather than bouncing. Static stretches are safer and result in fewer injuries. I've also found that they work better for increasing flexibility.
I also like yoga because it goes well beyond your typical stretching routine. It works muscles in combination and includes smaller muscle stretches that are easy to overlook, but are very important to how well your body works.
Finally, I've found that diminishing flexibility is almost always accompanied by stress. Yoga doesn't just help you to stretch and lengthen your muscles—it also helps you to release stress. And who wouldn't like that?
In a study of the benefits of yoga, researchers found that people who practice yoga for six months report improved flexibility, higher energy levels and a better sense of well-being.1
Other studies have found that yoga increases both strength and flexibility and that it may help to control blood pressure and build exercise capacity.2
Yoga is best learned in a class setting with an experienced instructor. A class setting means the instructor can see your posture and form and help you make corrections where needed. But if you're not able to find or afford a yoga class then I recommend you check at the local YMCA or community adult centers for free classes.
There are also many yoga DVDs that provide excellent and simple instruction that you can do in the comfort of your home. You can Google yoga to discover many sites like: www.yoga.com or www.amazon.com/Fitness-Yoga-DVD/b?ie=UTF8&node=578324 for a great selection of material.
Stay Well,
Mark Bromson M.D.
Natural Health News