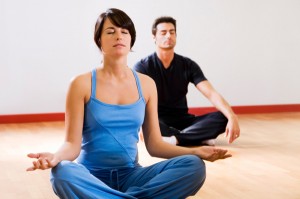 Frequently I hear my patients complain that they feel stiff all over especially in the morning when they first get out of bed. It takes them several moments of stumbling around and/or taking a warm shower before they can finally limber up. When I tell them that there is a form of exercise that can help banish that stiffness and creaky joints, their response is often one of surprise. It's true, though. That exercise is the ages-old practice of Yoga.  Here's why.
Yoga Keeps Joints Moving Smoothly
To help my patients understand why yoga specifically strengthens joints and bones, I first explain to them why their joints get into a stiff condition to begin with. First, our joints contain a fluid called synovial fluid. This is fluid that all the synovial joints of our body – our wrists, elbows, hips, knees, ankles –  have inside them that keeps the joint moving smoothly when we want to walk or dance the night away.
The circulation of synovial fluid throughout the joint helps deliver oxygen and nutrients to the hyaline cartilage, a membrane that covers the ends of the bones within the joint and prevents them from rubbing against each other. Another structure, the synovial membrane, provides the lining of the joint and manufactures the proper amount of synovial fluid for the joint.
The synovial fluid keeps the hyaline cartilage lubricated and able to move the bones within the joint smoothly and prevent bone on bone contact. I tell my patients to think of oil circulating through moving pistons on machinery – the oil helps the parts move smoothly without friction. Regular use keeps the machinery working well and if it sits unused too long the parts can rust and move poorly or become stuck and not move at all.
Similarly, when synovial fluid is not circulated adequately throughout the joint on a regular basis, i.e., through lack of exercise, sedentary lifestyle, even everyday movements can strain and stress the joint causing inflammation which results in pain and stiffness and often lack of mobility. Regular daily movement, then, is important to keep synovial fluid circulating adequately throughout the joint – this is where exercise, specifically yoga, comes in.
Yoga, through its slow, smooth, balanced, stretching movements helps circulate synovial fluid, as well as blood and lymph flow to ligaments and tendons. All these structures, when well-lubricated and working properly, help the bones and joints move in the smooth manner for which they were intended. When conditions like rheumatoid arthritis develop, joints can lose their ability to move smoothly. For my patients with arthritis, I often recommend yoga to help get their joints moving again and to stay more limber.
Yoga Strengthens Bones
When I explain to my patients how yoga strengthens bones, I tell them that yoga is also an excellent weight-bearing form of exercise that uses your own body as the weight, rather than stationary weights that you lift. You are moving and balancing your own body weight throughout a number of stretches and poses designed to strengthen every part of you.
Because it is weight bearing exercise, yoga helps build bone density which is especially helpful to menopausal women but also benefits older men as well. Thinning bones, from lack of weight bearing exercise, and/or nutritional deficiencies, is the major cause of broken bones, especially hip bones, in older people. In fact, recent research has proven that the weight-bearing moves of yoga actually help to reverse damage that frequently leads to osteoarthritis.
In addition, as I mentioned earlier, yoga is also a stretching exercise. It stretches all the muscles, ligaments and tendons of your body which, in turn, strengthens bones. You see, muscles, tendons, and ligaments are attached to your bones. When muscles are stretched and moved, they rub against bones causing stimulation to the bone that helps them regenerate and grow denser.
Yoga also helps balance the strength in all your muscles, unlike other forms of exercise like running, dancing, or racquet sports that strengthen more of the specific muscles of either the upper or lower body.  If all your muscles are used in balance this helps strengthen all your bones as well.
Many of my patients who have taken up yoga perform a few specific exercises when they get out of bed in the morning and a few more exercises before they go to bed at night, in addition to those they may do at a regular practice time during the day. This regular movement helps patients start their day more limber and pain-free and also helps them fall asleep at night.
Yoga is an economical form of exercise as well – all you need is your body and a quiet place to practice! I hope you'll give it a try and see if you start getting out of bed in the morning ready to hit the floorboards running!
Stay Well,
Mark Bromson, M.D.
Benefits of Yoga to Your Bones, Muscles and Joints, http://yogalite.wordpress.com/2011/02/25/benefits-of-yoga-to-your-bones-muscles-and-joints/
Yoga – Synovial Fluid and Inflamed Joints http://www.yogajournal.com/for_teachers/2280?page=2
Photo Credit: cdn.sheknows.com