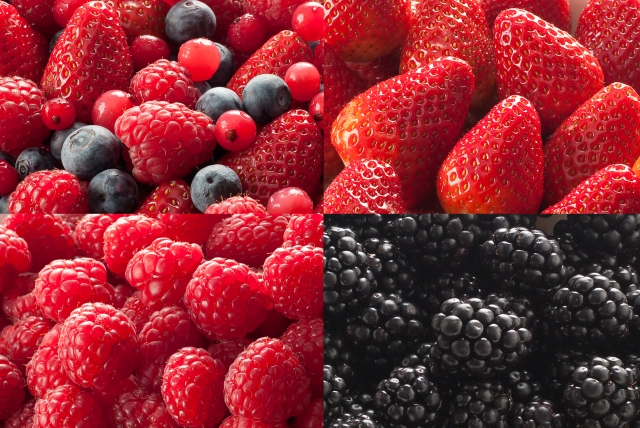 Some call them superfoods. The fruits, vegetables and other natural items that you commonly eat (or should be eating) are often loaded with multiple health-boosting qualities. But one of them takes the front of the stage and is a long-time favorite of nutritionists. It's the often the least eaten fruit―the berry! You may think you know all about the benefits of berries, but new research has revealed even more reasons to add these delicious, low-calorie fruits to your daily menu.
Potent Cancer Fighters
Numerous laboratory studies on berries have uncovered promising research in the area of cancer prevention. Many studies, however, have been performed on rats rather than humans. For example, scientists know that black raspberries inhibit the development of oral, esophageal and colon cancers in rats. A recent study, however, suggests that these benefits indeed translate to the human body.
The journal, Cancer Prevention Research, reports that people treated with black raspberry extract with familial adenomatous polyposis, a risk factor for colon cancer, had 59% fewer polyps than those who took a placebo.
Another study showed that raspberry powder reduced symptoms for patients suffering from Barrett's esophagus, which is a precursor to esophageal cancer. The research suggests that anthocyanins, nutrients that give berries their vivid color, are the source of anticancer benefits. Scientists gave one group whole black raspberries and the other group concentrated anthocyanin powder. Both of these groups experienced a similar slowing down of tumor growth.
More Berry Benefits
While further research is needed to fully understand the anti-cancer properties of anthocyanins, eating berries is encouraged by many doctors and nutritionists. It is well known that people who eat more whole foods and plenty of fruits and vegetables are healthier than people who do not. Because berries are particularly rich in nutrients and low in calories, consider eating them several times a week, or even every day.
While you can choose whatever berries you like, there are slight differences. All berries contain vitamins A, C, E and folic acid; selenium; calcium; polyphenols; and flavonoids, which act as antioxidants.
Strawberries also contain potassium and one cup has nearly as much vitamin C as a cup of orange juice and only contains 53 calories. A cup of blackberries will supply your daily requirement for manganese, and a cup of raspberries contains one-third of your daily requirement for niacin.
Blueberries have been studied for their anti-aging benefits. Research suggests that eating blueberries may reduce the age-related decline in mental capacity. In addition, one cup of blueberries provides 4 grams of fiber and just 83 calories.
How to Enjoy Berries
I encourage my patients to eat berries several times a week even though they are often hard to find and if you do, they tend to cost more than the average fruit. But there are many ways to get around this obstacle and enjoy the benefits of berries in your diet.
In summer, when berries are inexpensive and plentiful, buy them at farmers markets and enjoy them in their fresh, natural state. Fresh berries scattered over a serving of low fat ice cream or frozen yogurt makes for a healthy dessert that tastes indulgent.
You can incorporate berries into savory dishes too. Add them to salads, scatter over whole grain pancakes or your morning cereal. You can make an endless variety of grain dishes with berries. Add them to quinoa, barley or couscous, along with fresh herbs and a small amount of toasted nuts.
When berries are no longer in season, do not hesitate to buy frozen. They are just as nutritious because they are picked and packed at their peak. Frozen berries make a delicious smoothie along with yogurt and a ripe banana. You can boil them down with a bit of liquid to make sauces or stir them into hot cereal.
One simple way to enjoy them is to keep them in the refrigerator, rather than the freezer. That way, you can add a handful to yogurt, cereal or salad whenever the mood strikes. They will keep in your refrigerator for at least 3 days.
If you are not already a fan of berries, it is time to give them a chance. Full of nutrients, health benefits and cancer-fighting abilities, these superfoods should be part of your healthy eating plan. Eat a handful today!
Photo Credit: m_bartosch