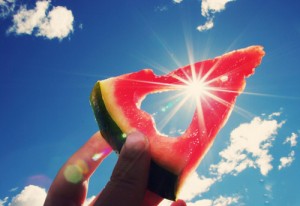 Even though fall is just around the corner, many of you live, or will be visiting, parts of the country where it's summer year round as far as sun exposure and your skin is concerned.  Like my patients, you've likely read, or heard about the controversies of using sunscreens that you apply to your skin – whether the chemicals in them are worse for you than using nothing.  Well, you'll be happy to learn that you can actually get the protection of a bottled topical sunscreen from certain delicious foods you could eat, without the risk of questionable chemicals.  Let me tell you how…
Lycopene, Vitamin C, Antioxidants – Nature's Sunscreens     
You may have heard that lycopene – a carotenoid-type antioxidant vitamin present in tomatoes and other fruits and vegetables – helps protect against several cancers most notably prostate.  Vitamin C, and other antioxidants, has also been long known to protect against cancer as well. They all provide built-in sunscreens for your skin just by eating foods that contain them.  As amazing as that sounds, it's true.  You can actually eat foods to help protect you from sun damage.
So, if you're leery about using chemical sunscreens that you apply to your skin, enjoy some lycopene and Vitamin C containing foods, like the following recipes, right before you go out in the sun. Here's a few of my favorites.
Watermelon:  A warm weather favorite, watermelon is rich in lycopene and Vitamin C.  Eat 2 cups of it freshly cut up or blended into a delicious and refreshing smoothie like this one.
2 cups watermelon
1 tsp fresh or bottled lemon juice
1 tablespoon granulated Stevia
¼ to ½ cup unsweetened almond milk
3 tablespoons protein powder (optional)
2 cups ice
Mix all ingredients in a blender and mix until ice is crushed.
Pink or Red Grapefruit, whole or juiced:  Another Vitamin C and Lycopene packed fruit.  Eat ½ for breakfast, and another ½ for lunch, whole fruit or juiced, before you go out in the sun for the day. Additionally, take some bottled pink/red grapefruit juice with you to sip while you're outdoors.
Tomato Paste:  Cooked tomatoes release the full extent of lycopene.  Eat at least 4 tsp before going out in the sun in this delicious personal pizza recipe that's great for breakfast or lunch:
1 Flatout Brand Italian spice flavored flat loaf
4 tsp (or more) unsweetened tomato paste
¼ to ½ cup grated mozzarella cheese
Garnish with mushrooms, pepperoni, black olives, jalapenos – your choice.
Pop in the microwave for 30 seconds.  Enjoy!
Mixed Berry Sunscreen Delight: Berries are high in multiple antioxidants including Vitamin C, flavonoids, and other compounds, which fight free radical damage from the sun.  Enjoy this potent sunscreen in a drink before you go outdoors, or mix up a batch to take with you and sip during your time in the sun.
¼ cup raspberries
¼ cup blueberries
¼ cup blackberries 
12 ounces of filtered water
1 tablespoon granulated Stevia, if desired, for a little extra sweetness.
Several ice cubes if you want a frostier, thicker smoothie.
Mix all ingredients together in a blender until berries and ice are broken up.
What Else You Can Do to Protect Your Skin
In addition to these delicious foods you can eat to help protect your skin, there are several herbal topical sunscreen products available at health food stores and online.  These produce use green tea (Camellia sinensis) rather than man-made chemicals, to give sun protection.  There are also herbal products like golden serpent fern (Phlebodium aureum) which is taken orally.  This herb works internally, much like lycopene, antioxidants and Vitamin C do, to fight free radical damage from sun.
Even though eating and drinking sunscreen-aiding foods will help, you still need to use common sense with sun exposure.  While it's beneficial to get about 15 minutes of high noon sun a day to make adequate Vitamin D in your body, after that, wear a hat and light, long sleeved/legged cotton clothing to protect very fair skin.  Applying herbal sunscreens to exposed skin can also help.
Stay Well,
Jay Brachfeld, M.D
Natural Health News
Herbal Sunscreens and Ultraviolet Protectants, http://www.deepdyve.com/lp/mary-ann-liebert/herbal-sunscreens-and-ultraviolet-protectants-8TFuvlW5U4
Watermelon:   Sunscreen in A Drink, http://www.suesnutritionbuzz.com/2012/05/03/lycopene-sun-shield-watermelon-smoothie/
photo credit: favim.com