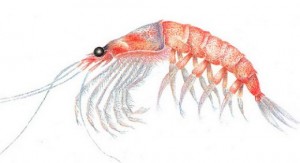 I am skeptical by nature.  For a doctor, this is a very good trait to have.  You see, every year there is a new crop of drugs and treatments that I evaluate for my patients.  After doing some research, I will often discover that there isn't much more than hype when it comes to these new "miracle cures."
You've probably heard the expression, "snake oil," to describe something that promises to perform miracles, but really has as much potency as vegetable oil when it comes to curing ailments.  There is an awful lot of snake oil in the wellness market these days, but I've recently found something that actually delivers on its claims–krill oil.
What the Great Whales Have Known All Along
Krill are tiny, semi-translucent crustaceans that swim together in a tight mass.  Sometimes, they are so dense that it appears they've turned part of the ocean pink.   Whales feed on these little creatures, consuming up to 8,000 pounds every day during feeding season.  That should tell you there's something good about krill oil!
Fortunately for us, scientists have finally gotten wise to the many benefits of krill, and the demand for this nutritional oil is now readily available in capsule form.  If you're worried that taking krill oil will use up resources that the whales and other marine life depend on, don't be.  Krill are one of the most renewable food sources on the planet, so they are a very eco-friendly choice for human consumption.
What About Fish Oil?
When I tell patients to consider adding krill oil to their supplement regimen, they will often ask, "But isn't it the same as the fish oil I'm already taking?"  The answer to that question is a resounding, "No."  There are a few very important differences that make krill oil the better choice.
Doctors started prescribing fish oil supplements when studies showed that omega-3 fatty acids are extremely beneficial to humans.  Omega-3's are known as essential fatty acids because they are absolutely necessary for the body to function normally.  The catch is that our bodies do not make these substances by themselves.  We have to get them from the food and dietary supplements we consume.
Fish oil delivers omega-3 fatty acids, but they are extremely unstable and can go rancid easily.  If you've looked around the health food store, you've probably noticed that the reputable brands are very expensive too.  Krill oil on the other hand is far more stable.  It also contains phospholipids, or compounds that deliver omega-3's directly to the cells in your body with maximum efficiency.
The other way in which krill oil stands apart from fish oil is that it contains very high levels of antioxidants.  If you want to protect your heart, strengthen your immune system and improve memory, krill oil has the antioxidants that minimize damage caused by free radicals so you can enjoy optimal health.  Once I finish explaining all these benefits to my patients, they don't need further convincing!
Special Benefits For Women
I recommend krill oil to everyone because it is clearly superior to fish oil.  It contributes to heart health, neutralizes free radicals and may keep you healthy as you age.  When I read a recent study showing that krill oil significantly improves pre-menstrual symptoms, I wasn't surprised.
Researchers at the University of Montreal studied a group of women who experienced premenstrual cramps.  Some had sudden, sharp pain, while others had dull aches.  The women taking krill oil supplements had a significant reduction in both kinds of pain.  The researchers also tried the same experiment with fish oil and discovered that krill oil was far more effective.  As an additional benefit, krill oil improved the moods of the patients too!
With all the discouraging news about certain fish being high in mercury and industrial pollutants, you now have a better way to get the amazing health benefits of omega-3 fatty acids.  Ask your doctor about krill oil and find out if it is the right choice for you.
Stay Well,
Mark Rosenberg, M.D.
Natural Health News
KrillOilUpdate.com: http://www.krilloilupdate.com/
Mercola.com: http://www.mercola.com/
Wikipedia.com: http://en.wikipedia.org/
photocredit: haylz-b.hubpages.com